Worldventures.co.uk : the sport telegraph reviews




Return to : Top

MCENROE MAGIC TOO MUCH FOR MURRAY
By Mark Hodgkinson
4th October 2004.
Wembley Arena was transformed into a giant pre-club bar last night, Andrew Murray, just 17, walking out on court with a blonde on each arm, the sweep of the searchlights, and the thump-thump of the DJs in his ear. If that was an exhilarating entrance for the British junior, so was the experience that followed.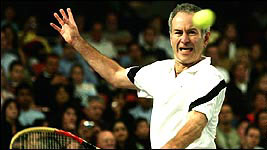 Mac attack: Battling John McEnroe wins his Superset match in typical style.
This new twist on the sport, Superset Tennis, had allowed the teenager some court-time with John McEnroe. Murray did not seem to care that he was outplayed, that he lasted just 24 minutes, and had only managed to come to net when he was shaking hands at the close of his 6-1 defeat. This was a tennis lesson, in all senses. "John told me at the net that I have a great future in the game. I told John that it was a great honour to be on the same court as him," said Murray, who has shot to prominence after winning the junior version of the US Open last month. That new celebrity gave him a shot at this one-set, eight-man competition, with the overall winner banking a cheque for £250,000.

McEnroe may have salt-and-pepper hair, may have arrived on site looking distinctly jet-lagged after flying in from New York, and may be 45 but he has retained his competitive urges. McEnroe is keen to help Murray with his career, and spoke to him afterwards, but this was totally ruthless. The match, the most eagerly anticipated of the four in the afternoon session, was over surprisingly quickly. It demonstrated two things. First that McEnroe still has what it takes; second that Murray would possibly have been out of his depth if he played in the Davis Cup the weekend before against Austria. McEnroe had suggested that. Murray has class, but his public need to be patient.

It was the teenager rather than the old showman who fired up the crowd first, pumping his fist wildly after swiping a forehand inside the line. The rules encouraged players to query line calls, with disputes sorted out quickly using Hawk-Eye on the giant plasma screens, but again it was Murray who was there first. He knew he had to get in quick, questioning a serve on the first point.

McEnroe quickly followed, raging at a line call on the second point. Hawk-Eye showed that the umpire was right, McEnroe wrong. The New Yorker did not like that. "That's not even accurate," he spat at the plasma screen. He explained his mini-tantrum to the cheap seats: "It's in my contract, all right." But McEnroe, who was returning serve with a lot of bite, broke in the second game with a backhand volley and again two games later when Murray came over a forehand and hit it into the tape. Murray had his only break point in the seventh game, but McEnroe held on to serve out the match.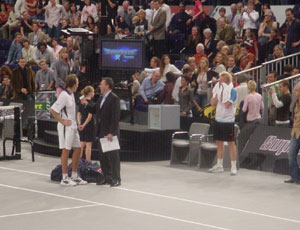 Rusedski interviewed courtside after beating Becker.
This format was meant to herald short and snappy matches, but that idea seemed to be totally lost on Greg Rusedski and Boris Becker. By the close, they were more than well acquainted with each other. With a tie-break not played until 10-all, the quarter-final extended to a 10-11 victory for the Briton. Rusedski came very close to embarrassment, defending four match points against a 36-year-old opponent whose midriff has thickened with five years of retirement. "That was the longest set I've ever played," Becker huffed. "But the match points showed that I can still live with the top players." In the end, there was only Paul McKenna between the two players. The players were allowed to talk to their coaches during the changeovers, but without anyone in his employment, Rusedski had invited the celebrity hypnotist alongside.

Should Jeremy Bates, the Davis Cup captain, be concerned? "I don't know if Jeremy's job is under threat," Rusedski said. "Paul is a good mate of mine." It was still unclear how much McKenna actually knows about topspin backhands and stop volleys, but the ploy seemed to work, with Becker playing a horrid tie-break. "Paul stared into Boris's eyes. All the guys were scared of looking at Paul in case they got hypnotised," said Rusedski, who now plays in an Alice-band. "I explained to him that I didn't have a coach at the moment and asked him whether he wanted to come on court with me. Paul could see that I was getting very tight out there, and was helping me with a few relaxation techniques. I've done some work with him in the past, helping me to get over injuries. It's all about the power of the subconscious." There was also a serious element to last night. All eight players argued that some of the technological innovations used here should be on the main tour. "They show where the ball lands and there is no argument. I would be in favour of it on the main tour," Rusedski said.

A cautionary note was added by Goran Ivanisevic, who was playing his first tennis since retirement at Wimbledon. He lost 6-4 to Tommy Robredo, a Spaniard named after the rock opera by The Who and so at home in this kind of environment. "This is good all this craziness," the Croatian said, "but maybe there is a little too much craziness."

Return to : the wembley page



Return to : Top
LATE SHOW UPSETS SUPERSET FORMAT
By Mark Hodgkinson
5th October 2004.

It was far too late on Sunday, close to midnight, when Mario Ancic did the usual tennis player celebration, dropping to his knees and leaning so far back that you worry about snapping bones. 'Super Mario' was happy - his was a cheque for £250,000 - but several aspects of Superset Tennis need improving.

This is not to say that the exhibition event, a new, offbeat format at Wembley Arena, did not put on a good first show in this country. It did, but there was still the sense that it did not go far enough in two key areas. That was almost inevitable, as although there had been a pilot in the United States, this was done on a far grander scale.

The first talking point is that Superset was marketed as short and snappy, but wasn't. Not quite. The evening session overran by over an hour, dragging the coverage out of prime time as Ancic and Greg Rusedski extended the final of this one-day, one-set event to 11-9.

The tie-break needs to be at a television-friendly six-all, as normal, not 10-all. Especially if the event is all about its denouement, offering the dramatic tension of a winner-takes-all prize. The organisers may have been led by what happened in America, where the matches were brief, but this needs to be changed.

The second talking point was the promise of 'wackiness'. It could have been so much wackier. The music-and-lights entrances were great value, especially John McEnroe hamming it up like a prize-fighter, but much of the pre-match extravaganza can be seen across Europe during the sport's indoor season. Something more than HawkEye is needed.
Return to : the wembley page