Worldventures.co.uk : bbc sport articles




Return to : Top
MURRAY TO FACE McENROE


Highlights on BBC2
Sun 10 Oct 1210 BST.
Britain's Andy Murray will take on John McEnroe in the Superset Tennis event on Sunday after the withdrawal of Tim Henman because of injury. Henman aggravated a back problem and suffered a swollen shoulder during Britain's Davis Cup defeat to Austria. Murray, 17, will face 45-year-old McEnroe in the first round of the one-set event at Wembley Arena. "I'm so excited to play McEnroe. I looked up to him when I was younger and he's a real legend," said Murray.

McEnroe said: "I have heard about Andrew for a couple of years and got to see him play in the last couple of months. "He has a lot of talent. Now I have the chance to see what he's got at first hand." Eight players will compete at the event over one set, with the eventual winner taking home the top prize of £250,000.

In other first-round matches, British number two Greg Rusedski faces former world number one Boris Becker, while Goran Ivanisevic has been drawn to play Spain's Tommy Robredo. Competitors will be able to question any calls with the use of slow-motion replays, while the players will wear heart-rate monitors during their matches.
Return to : the wembley page



Return to : Top
HENMAN WITHDRAWS FROM LYON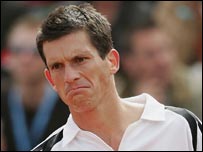 Henman pulls out of Superset. British number one Tim Henman has pulled out of next week's Lyon Grand Prix in order to rest his sore back. The 30-year-old aggravated his back problem and suffered a swollen shoulder during Great Britain's Davis Cup defeat to Austria last weekend. He announced on Wednesday that he would miss Sunday's Superset tennis event in London and has now withdrawn from Lyon.

The world number four would have been top seed for the indoor event, which was won last year by Rainer Schuettler. But he was staying hopeful that he will be able to return to continue his bid to make the end-of-season Masters Cup. Tim Henman "Judging the severity of most injuries is never easy," he told his website. "On occasion this year I've struggled on with an illness or an injury and managed to do pretty well considering, but I think the best course of action in this instance is to rest up and let my body recover."

"I was looking forward to going to Lyon as I'd like to improve my ranking and qualify for the Tennis Masters Cup as soon as possible. "But given there's still hopefully quite a bit of tennis to be played this year I feel it's important to let my body recuperate fully before getting back on the match court."
Return to : the wembley page